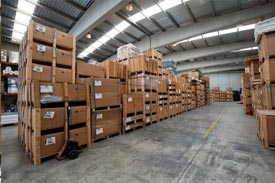 Our company has indoor and outdoor facilities to store the following goods:
All kinds of goods, including foodstuffs. We can not store dangerous goods or waste.
Our experience is based on long palletized products, such as chemicals, with pallets, big bags or IBC.
We can store, hardware store and bazaar products, pallets of bottles, building materials, kitchen furniture, fertilizers, etc. we can store everything that is transported by truck and can be downloaded truck and crane. We have 3 large halls with a capacity of 2,400 m2 (almost without columns) and an exterior of about 1,000 m2, suitable for storing products in the open.